Pseudonymity is Useful, but How?
Advantages and experiments in expression.
Welcome to A$A – I'm David Sherry. Every day (ish) I point out somethings surprising that can teach you about building a brand online.
---
"I have two new singles out, please listen to them or I'll eat 10 tacos and cry myself to sleep"  – Lil Miquela, Internet Avatar 1.6m followers
My two new singles "Money" and "Sleeping In" are OUT NOW 💕💽 Stream them on Spotify, Apple Music, at the link in my bio, and in your mom's minivan ok!!
Daft Punk, Gorillaz, Banksy, Lil Miquela…
Artists have turned to the use of Pseudonymity as an accent to their unique form of expression. But today that idea is getting easier for anyone to utilize. We're not all full on BRUD characters like Miquela just yet, but maybe some day soon…
Thanks to technology we can distribute information and communicate at a global scale from a keyboard. This allows us to mask our identity while still hitting scale beyond one to one communication – something unprecedented.
You don't have to public speak, you can public tweet – and your profile photo, name or real ID aren't necessary in disseminating information, or even building trust.
Why is Pseudonymity Useful?
The key to understanding the use of Pseudonymity is that it allows you to augment your expression because it shifts the symmetry of trust and reputation.
Information Asymmetry is the idea that one or more actors on one side of a transaction, discussion, negotiation or dealing have more information than the other side.
In this case, the use of Pseudonyms allows one party to gain an advantage in information. They have insight into who they are, while the other party or audience does not. Thus, they are shielded from associations and prejudice.
This asymmetry then allows the Pseudonymous figure to:
Communicate without direct reputational consequence.

Curate and extend an image beyond the realms of reality. (You're not judged on appearance, race, gender, etc.)

Pose questions, take risks, and challenge power structures without fear of political or legal consequence.

Exist as a symbol or a figure of imagination – alluding to an idea that is larger than an individual (constrained to individual flaws). You can go beyond mortal, to icon. Prince wanted to be a Symbol…And SuperHeroes wear masks.
---
Pseudonymity in Discussion Forums Leads to Higher Quality Conversations.
Some data to back up the allowance of true expressions –
From Fred Wilson's Blog:
This will not be surprising to the AVC community but will certainly be a shock to the "real names" crowd. Disqus has shared some research they have done on three kinds of commenters; real names, pseudonyms, and anonymous commenters. Click on this link and check it out.

But if you are not going to do that, I will summarize the data:

– Pseudonyms lead to higher quality comments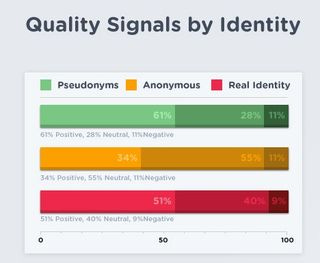 And then again From Fred Wilson's AVC Comment Section: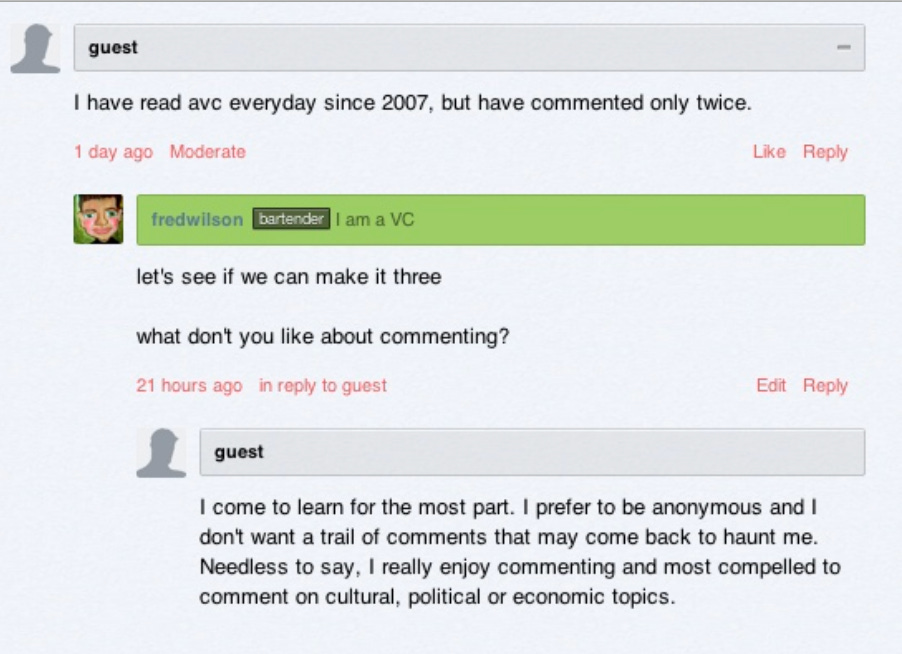 And FAKE GRIMLOCK also shedding some light as to why…

"SOME TRUTH ONLY WORK WHEN NOT CHAINED TO IDENTITY"
I like the use of the word chained here because who you are born as can be a liability in certain circles and instances due to human judgement and assumptions which can be
---
Pseudonymity is Useful in Parody.
Inside the tight knit world of Finance Twitter, parody accounts such as Ramp Capital or even news outlets like Zero Hedge. Ramp Capital poke fun at the existing narratives and accounts through sarcasm and parody. What's interesting about these accounts is that they clearly come from the inside.
To be able to parody is to understand fundamentally the nuances of an industry or culture. Your deep knowledge helps you expose deep irony.
It's not true Parody unless you understand the rules/nuances of a discussion so that you can reflect back its absurdities.
And then there's one of my favorite accounts on Twitter, @Dril
From Jill Carlson on Medium "The Power of Pseudonymity"
"Whether consciously or not, @dril's fans must know that the humor of their favorite Twitter account would be eroded if they knew who was behind it. So they don't want to know. @dril's tweets can mean anything to anyone in his (her? their?) audience. Pseudonymity allows the consumer to impose their own meaning, independent of the intent of the author or creator."
Pseudonymity can be a part of your Digital Hygiene/Safety.
The web started out pseudonymous. People forget that we used to be scared to use our real names or credit card numbers online. Today, if a website asked for your social security number and seemed credible, you'd probably put it on there.

The pendulum will likely swing back in the other direction, now that we're seeing negative consequences associated with using our real identity in every single social sphere.

Thus the web will go from pseudonymous —> to real identity —> to a mix of pseudonym and real identity.

We're not that far from a world where you can mask much of your activity. As more of what happens, happens online, you can filter and screen and abstract your real identity away from your actions through software.
---
Member Link: Thanks @Jasondoesstuff for sharing a link related to yesterday's post on Video FAQ's – The Wealthsimple masterclass on investing. On the the post…
Thanks for subscribing be back tomorrow with more links and brand trend spotting. And as always, feel free to share links with me if you see something. 
About me: